'Runners Kit' Letterbox Gift
£20.00 + delivery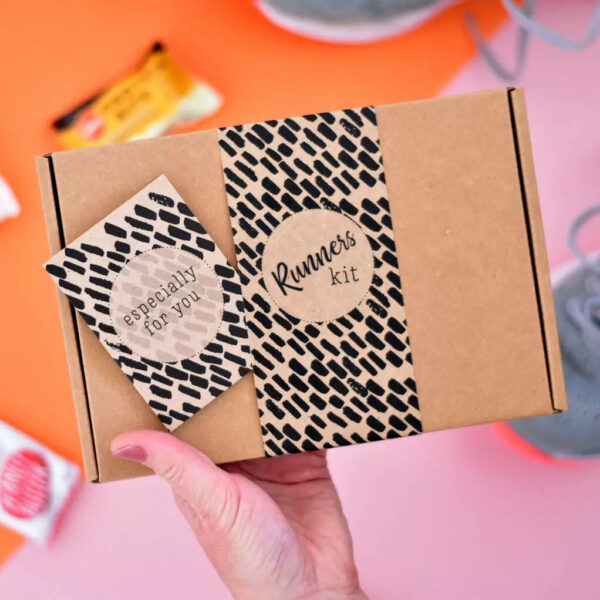 'Runners Kit' Letterbox Gift
---
Seller:
Mrs L Cards
A super useful letterbox kit for runners of all abilities.
Product details
This letterbox gift is a brilliant box of goodies for runners or those thinking of getting into running. This thoughtful gift fits easily through the letterbox so is great as a surprise present to send to friends of family.
The box contains:
• 5 "dynamic stretches" cards, these are great stretches to do before a run.
• 5 "static stretches" cards, these stretches are wonderful after a run.
Both packs of cards are printed on recycled kraft card and wrapped in natural string.
Each box will contain 3 food or drink items. The 3 items will be picked from the following:
• 1 sachet of Moma Jumbo Oat Porridge Raspberry, Chia and Pumpkins • 1 sachet of Moma Jumbo Oat Porridge Peanut Butter and Maple Syrup • 1 Vive Protein Bite Peanut Butter • 1 Get Fruity Juicy Apricot, Orange and Ginger Oat Bar • 1 Get Fruity Juicy Oat Bar Juicy Berry Mix • 2 Up Beet energy teas • 1 pack of Cranberry natural Yoghurt covered raisins • 1 Stoats Blueberry and Honey Porridge Oat Bar • 1 Stoats Banana and Multiseed Porridge Oat Bar • 1 Doisy & Dam Dark Chocolate, Goji and Orange • 2 sachets of Beanies Flavour Coffee.
• Nutritional information on the foods and drinks provided.
• 2 sachets of 100% pure Epsom Salts.
• A gift card with "Especially for you" on the front and blank inside for your own personal message.
The box is made from FSC certified corrugated cardboard. The belly band wrapped around the box is printed on recycled kraft paper.
The size of the box is 190mm x 130mm x 20mm so fits easily through a letterbox.
UK delivery only
---
Only logged in customers who have purchased this product may leave a review.